Back to Welcome Page Back to larger set descriptions About Bluebird Toys Oh Jenny & Other Info
How we discovered "Oh Penny"
---
Clare - I first had the Oh Penny big house set for christmas when I was around 8 or 9. Over the next few years I was brought the Gypsy caravan, Mr Greens stall, Flo's flower stall and the carded Pony club & Super scooter. Then when I was 11 all of my Oh penny items were sold to put the money towards a bike, I had stopped playing with them and they were just sitting a box. As soon as they had gone I knew it was a big mistake. I started to collect Oh Penny again when I found them on the internet auction site Ebay, there I brought the house, stable, swimming pool with bridge & tree house. I was going to stop at that until a lot more sets kept on popping up. Now I'm hooked as there such brilliant items very detailed and still got huge play value. Now when my little nephew comes around he always wants to play with my "Oh penny" toys.
Lynda - I bought my first lot of Oh Penny sets second hand. I had no idea what they were, but noticed they were made by Bluebird Toys. As a self confessed Polly Pocket nut, I thought they looked interesting, but after much deliberation, decided I should sell them on, as they weren't technically Polly Pocket. I must admit it was a difficult decision as I was quite taken with them at the time, but I kinda thought my family might not tollerate another collecting craze! I decided to try and check if what I'd bought where complete sets, but was very surprised that I couldn't find anything on the Internet about them. This seemed strange given that Bluebird Toys are so popular. There are of course some superb sites/resources for collectors of Polly Pocket, Mimi & Goo Goo and Mighty Max toys, but nothing on Oh Penny, so I decided this must change! I was lucky enough to meet Clare, who is the real expert on Oh Penny, as she has been collecting (on & off) for several years. Clare has since introduced me to other sets in this series, and now I have seen the range, I don't think I can resist them! Nearly all of the items featured on this site are in our personal collections, other pictures have been used with the originators permission, for which we thank them. If you have any information on other items in the Oh Penny range, we'd be delighted to hear from you!
Penny and her family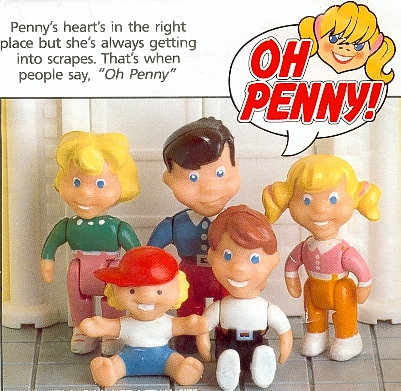 and here's Penny's story book..... AND Penny's 8 page comic