Exterior:
Style: Compact
Color: Mint Green
Shape: Square
Approximate Dimension: 4" X 3.5" X 1.25"
Interior:
Upper: Dance floor, disc jockey booth, bedroom, and bathroom
Lower: Party table and chairs and presents
Action:
Front door opens
Dance floor revolves
Present opens
Press cake on table to play "Happy Birthday"
Dolls:
Polly Pocket, curly blond hair with silver head band, dark pink body suit with short puffed sleeves, silver necklace, silver shoes, tan base, left foot is back and on toe (1993)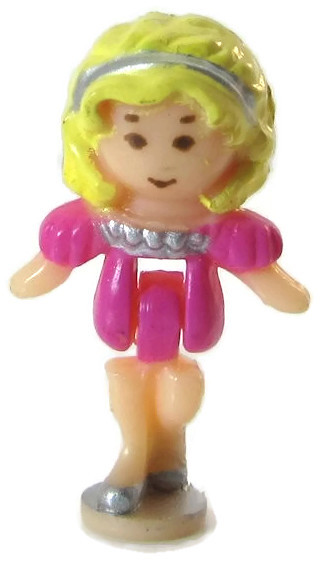 Additional Pieces:
Teddy bear, yellow with dark pink ears, eyes, nose and paw prints
Skirt, shiny net fabric
Notes:
One of our visitors has been able to remove the inside of the set. At the right is a diagram of what she found and you will see if you do it. "Break point" indicates the posts that had to be popped. Then it takes great care and patience to remove the section without damaging the case, i.e., leverage marks. The battery is located beneath a non-removable cover but since this will not show once you put your set back together, there should be no harm in removing it. Of course, be very careful that you don't knock any of the wires loose.