Exterior:
Style: Locket
Color: Orange
Shape: Flower
Approximate Dimensions: 1.75" X 1.5" X .75"
Interior:
Upper: Woodsy scene with a frame to place photo
Lower: Campfire, picnic area
Action:
Top opens to insert picture
Picnic basket lid opens
Dolls:
Pixie, brown hair, purple top and pants, light green hat, magenta boots, yellow backpack, silver binoculars in right hand (1992)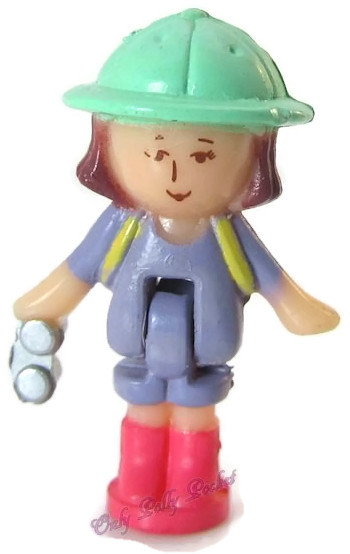 NOTES:
There is a special locket that was included in the Kraft Macaroni and Cheese boxes as a premium. On the back of the locket is a Kraft Cheese and Macaroni Treasure Sticker.
Bluebird Toys used to print delightful little stories on the packaging. Here is the story for this set:
"Camp Days Locket
Pixie loves to go camping in the country - her hamper really opens! - and you'll love having a picture of your best friend with you!"