Exterior:
Style: Compact
Color: Purple with silver trim and diamond on cover
Shape: Round
Approximate Dimensions: 2.75" X 2.5" X 1"
Interior:
Upper: Bedroom, throne of inside of igloo
Lower: Iceberg opens revealing jewel with seal and sled
Action:
Iceberg opens to reveal diamond
Front gate opens
Dolls:
Polly Pocket, blonde curly hair, silver headpiece with diamond, silver necklace, pale purple parka with white trim at bottom and sleeves, pale blue gloves, silver shoes and base (1992)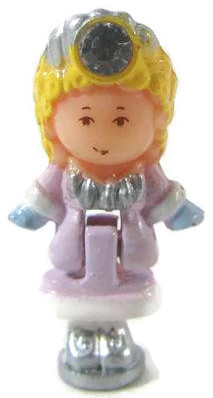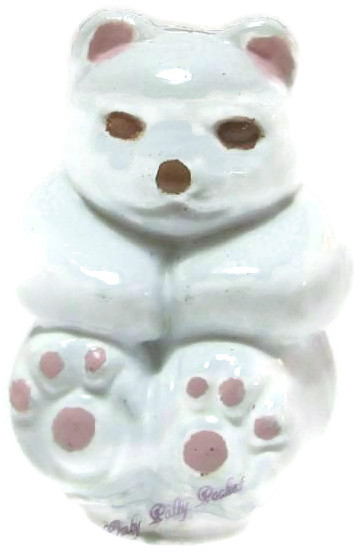 Additional Pieces:
Snowy, polar bear, white with pink paw pads and ears, brown eyes and nose (1992)
Notes:
Some sets were produced with silver chains attached and a stationary iceberg, others have no chain and the iceberg is removable.
Bluebird Toys used to print delightful little stories on the packaging. Here is the story for this set:
"Princess Polly's Ice Kingdom
Princess Polly and her pet bear Snowy love to slide about on her little ice rink or play with the seal and the penguins in her frosty Ice Kingdom at the North Pole. Her sparking 'diamond' is locked safely in an enormous crystal treasure chest hidden in a little iceberg. You can take the crystal treasure chest out and play with it separately too!"