Exterior:
Style: Compact
Color: Pink cover, salmon pages, gold clasp (forms a support stand when open)
Shape: Storybook
Approximate Dimensions: 3" X 3.25" X 1.5"
Interior:
Upstairs: Hut in jungle with water and palm trees holding hammock
Downstairs: Seashore with cave and treasure chest
Action:
Hut roof opens
Palm trees fold up
Hammock swings
Treasure chest opens
Dolls:
Tiny Polly, blond waved hair, garland of dark pink flowers, short-sleeved orange sarong with turquoise dots, barefoot, green lei and bracelet, tan base (1995)
Tiny Lily, red hair in ponytail held with white flowers, green grass skirt, white lei, barefoot, holding dark pink flower with green stem in left hand, tan base (1995)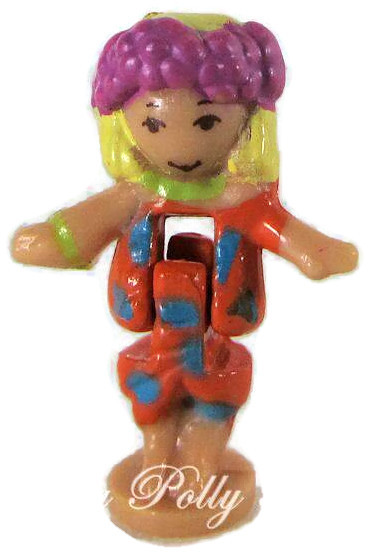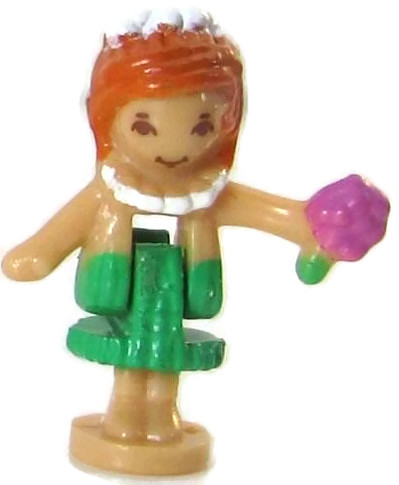 Additional Pieces:
Shelly the turtle, lime green
Coco the monkey, brown, blue base, right arm raised in wave (1995)
Canoe, salmon
Bluebird Toys used to print delightful little stories on the packaging. Here is the story for this set:
"Tropical Paradise
Tiny Polly imagines she lives on a beautiful tropical island. Polly's friend Lily loves to visit the Paradise Beach where Polly and Coco swing in the hammock after a treasure hunt on the beach. Lily and Polly often go exploring by canoe across the Blue Lagoon."